Bathing Beaches associated with the Hotel Fantasy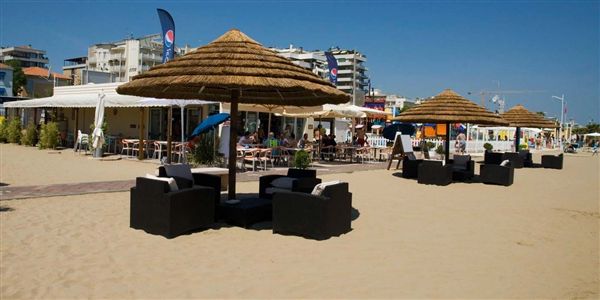 You will find everything you need for relaxation and amusement in the Hotel Fantasy and at the beach establishments no. 63, 64 and 65, associated with it: at the beach various equipments and services make your stay comfortable, there are playgrounds, a fitness-centre, and entertainment activities. The beaches are appropriate for everyone, from families with small children to teenagers and sports people. The beaches associated with the Hotel Fantasy offer the best entertainment for adults and children as well as high quality equipments and services.
Near the Hotel Fantasy there is the fantastic floating park BoaBay, composed of inflatable platforms floating on the sea, 100 metres from the shore, with slides, trampolines, platforms to climb on and tunnels. It also has a portion dedicated to small children from 6 years of age to a maximum height of 140 centimetres.
Amusement for young people, teenagers and children
The young and the very young can practice a lot of activities at the bathing beaches no. 63, 64 and 65; they will have much fun and no boredom at all, as is expected from holidays on the Romagna riviera. Who appreciates sports and amusement opportunities on the sand will not be deluded. There are fenced play zones for the small children where they can safely amuse themselves among peers, guarded by their parents or carers from the entertainment staff. The bigger ones have fun on the boccia, beach volleyball, tennis and soccer courts, all with lighting at night, and with games like table football, table tennis and billiards that are at everyone's disposal. When you are in the mood for some nice reading the beaches no. 63, 64 and 65 have newspapers and magazines for you, as well as a library zone where you can borrow books.
Fitness on the beach, gym and entertainment

At the beaches no. 63, 64 and 65 you have the opportunity to keep your form with workouts in a gym right on the sand. Of course there are hot and cold showers and a mobile bar service. Many more services are available on request: a tv room, wi-fi on the beach, wellness-treatments, bicycle rental, safe boxes, barbecue on the beach, boats and seurf boards rental.